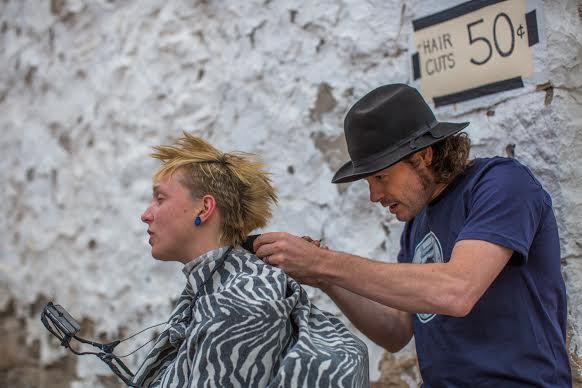 Photo Credit goes to Daniel Martinez Gonzalez.
Marlon Blackwell's Architecture in a Landscape of Unholy Unions, describes true vernacular as coming "from makers who are mostly anonymous, and who are self aware but not self-conscious, more inclined to be responsive and direct than erosive, real and actual but not excessively concerned with reality per se."
I got a 50 cent haircut, as part of the general activities at the Mountain Film Festival. My barber was a performance artist who ask questions as he snipped away with dull pair of scissors. The interviews were captured by his iPhone rigged around the customer's neck.
The barber's questions veered toward the "taboo" circling around spirituality, life crisis, sex, etc… My interview was mild. Maybe, he lower the pretense on discovering I was a fellow artist. He asked, what I felt about the high cost of graduate school, why I chose to perpetuate the system, how could someone like himself and his wife anticipate supporting the cost of their now six year old's son when his son chose to pursue higher education.
The last part of Blackwell's quote … to be "real and actual but not excessively concerned with reality per se" describes Blackwell's ability to merge specificity and whimsy; to create a conversation by framing the familiar within a context of the strange. With the performing barber, the whimsy was in the act of hair-cutting, but his first set of questions were too universal and grand to mean anything. I found the vernacular only became interesting when he started to discuss his genuine concern with his son's education.