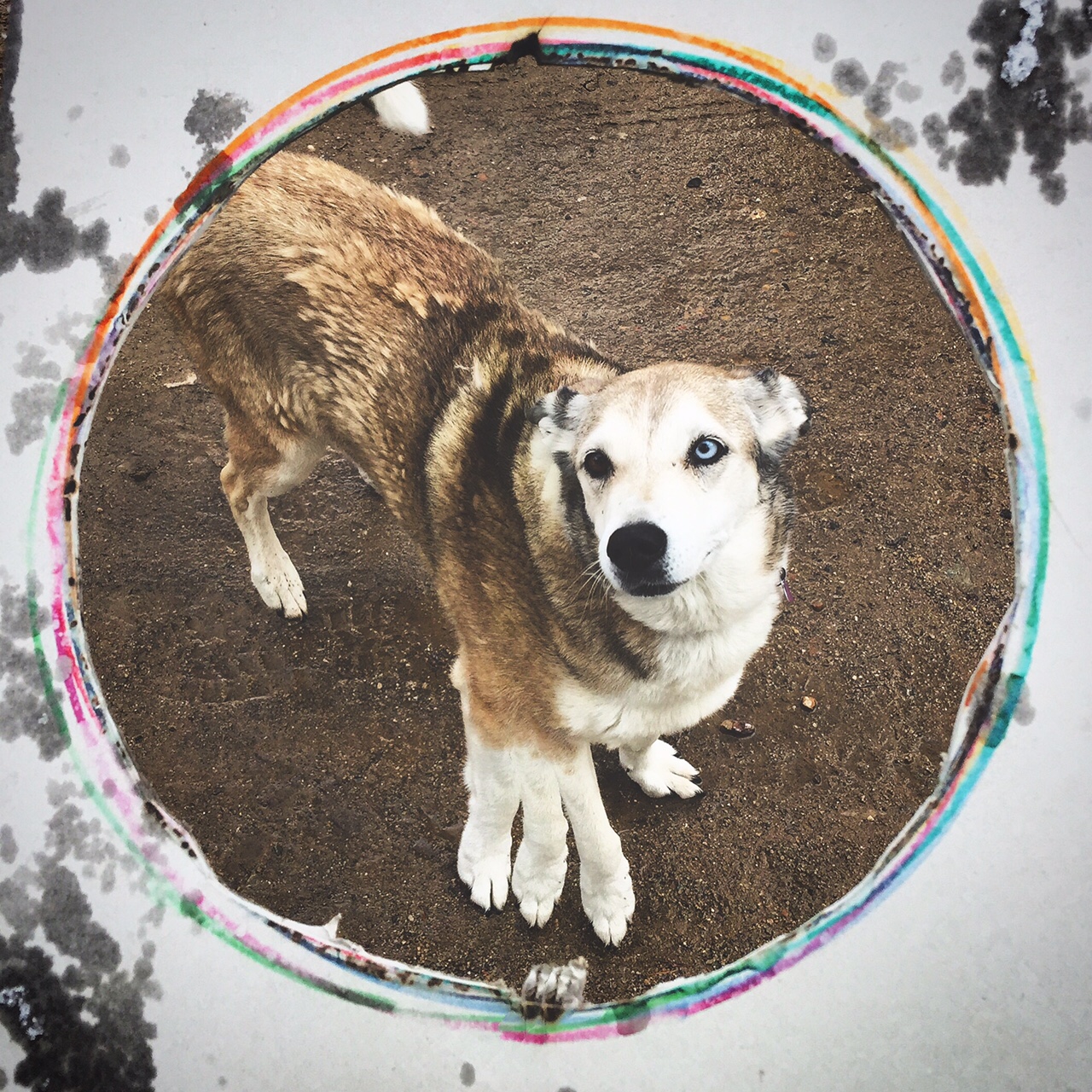 This is Spice. When I took her portrait, she was a fluffy scuffle of tucked tail and cordial circles. She was split between two options, following her guardian (in Boulder it's illegal to own a dog, you can only "guard" one) or remaining the free pooch of the Mountain Research Station. When I took her portrait, I was wearing a t-rex costume. I had a magnifying glass in my hand. I had just explained my viewfinder to Spice's dad, who was only slightly wary of a t-rex with a giant piece of cardboard and a magnifying glass. I didn't get to explain how I made my viewfinder: why I had covered the nature face-r in the dirt of my day old footprints, used smelly markers to encompass my sight, burnt the circle, or painted my spit into the periphery, because hadn't asked me that. He looked up from his business, noticed Spice and I wrapped in a tango, and blankly asked, "...what've you got there?" "Uh, 20 pictures. We've got to take 20 pictures with our viewfinder." There was a little more elaboration, but that was just about it. He wanted to know "what". He didn't want to have to extinct me. After controlled elaboration, a brief pause as I remembered what I held in my hands and in my purpose, taking up my aim. "Spice." "What?" "Her name is Spice." I cooed the pup as I frenetically attempted the one armed framing dance, not realizing the panorama setting I was in would turn Spice into a six legged mutant freak. Spice is a mutant six legs or four. (I just asked Alynn, our resident animal encyclopedia) One brown eye and one blue eye decorate her perception. Nobody can say if she sees "normal". What's a dog's normal anyway?
We've been talking a lot about senses and perception, outside and inside, temporary and permanent. Lots of time, I feel like Spice looks, but only to myself. I'm running in circles around the people I'm meeting, uncaring or oblivious to manners beyond my basic training. I'm seeing the world out of two different colors, sometimes one sometimes the other, sometimes both. Odor is colorful and sounds touch all of my skin. It's all happening so fast, but I can't tell time. I'm remotely located in nature. I might need a bath. I'm fluffy. I don't remember the details. Humans come and go, their research is not mine. I have six legs. I'm a mutant.
I look at this picture of Spice and think of myself. I allow myself to think with myself, "Nice, Spice. Good try, good try." I am simply complex. Forgetfully informed, I am the macro micro in a nearby rurality, the single distinct plurality, instinctive mentality of the historical man made animal. I'd like to stay Spice-y.